What is SEO or Search Engine Optimization? SEO is simply a process of driving up your website higher in organic side of the search engines such as Google, Yahoo!, and Bing.com. The quality of that traffic is key as well, volume doesn't equate to conversion. Drive quality visitors to your company's website with Cultivate Search Engine Positioning.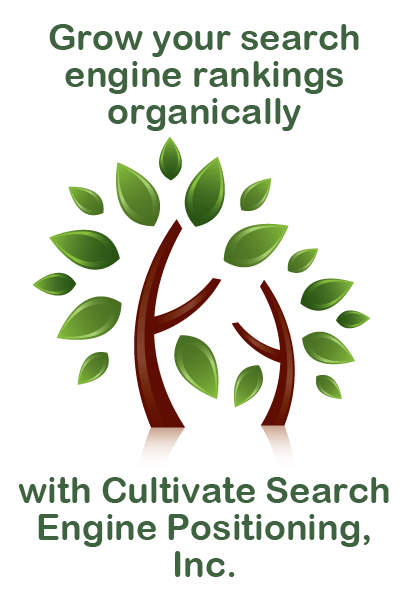 I offer two types of Search Engine Optimization:
SEO Consultation and Ongoing SEO
What is SEO Consultation?
My SEO Consultation service is an extension of my Website Audit. The detailed report will include major and minor issues your site might be experiencing as well as an analysis of up to 3 competitors. I then provide an outlined and detailed plan of action on what to do next.
Read more about SEO Consultation
What is Ongoing SEO?
Ongoing SEO is a full blown search marketing strategy. This includes site optimization, link aquisition, social media exposure, and competition analysis. Get and keep your site at the top of search engines.
Read more about Ongoing SEO
Which SEO Service is right for you?
If you are part of the select few that do not have multiple competitors with websites then SEO Consultation is for you. SEO is a service and not a product, however, if you happen to be lucky enough to be a part of this select few we often are able to provide you with our detailed reporting and then a plan of action to get you ranking in no time.
For the other 95% of small businesses ongoing SEO is a necessity. Kepping on top of the latest search and ranking trends is imparative.