Search Engine Optimization isn't just a good idea in today's online market, it's essential. If your site's optimization falls below your competitors so will your business. As complex as the search engine's algorithms are getting it's become necessary to have your optimization done by an expert.

That's where cultivate SEO comes in, we have the knowledge to properly evaluate your website and consult you on what needs to be done to properly optimize your website. You can have the greatest site on the internet, but if you're the only one that knows about it what good is it?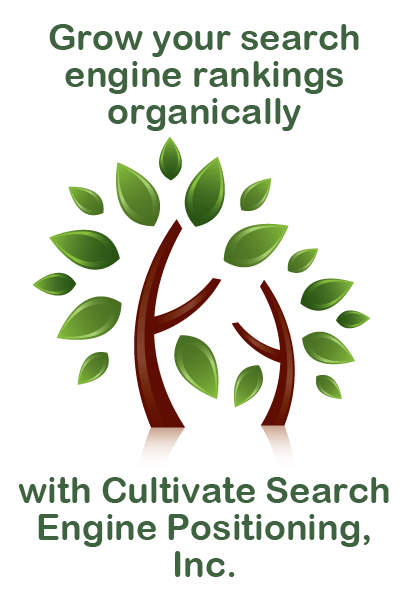 Do you really need a professional consultant?
If you want your site to get the traffic it deserves the answer is easy: yes. Search engine optimization has become incredibly complex and forever evolving, only a true SEO expert can stay on top of these changes.

If you want to enjoy a sucessful online marketing campaign then the answer is again: yes. Only a highly optimized site can reap the full benefits of an online marketing campaign. Let our SEO consultant help you reach that full benefit.
What facets of SEO does our Consultant examine?
Our search engine optimization evaluation and consultation services are fully comprehensive. To give you a little taste, that includes on-page examination, social bookmarking, link portfolio, code examination, keyword density, and much more.

We analyze your website and how it measures up in these and many more areas of search engine optimization.
What happens after our consultation?
You will receive our comprehensive reports delivered electronically (and if desired hard copies mailed via FedEx).

These reports wont simply be data, but followed by detailed explanations of what that data means and how it would be best to rectify the SEO problems we come across on your website.

Not all search engine optimization problems are equal. Thusly we will provide a list of the most important problems that should be fixed first. With this incredibly valuable consultation you will be able to make these changes not only correctly but making sure you are fixing the biggest problems first and not wasting any time.
Here is a brief outline of what we will examine during our audit:
Keyword Analysis and Research

Keyword Effectiveness Analysis
Competition Analysis



Site Architecture

Examine Webserver/host
Analysis of Programming Languages Used
Shopping Cart, Sessions, Cookies Analyzed



Site Navigation

Analysis of Structure
Images/Javascript Pitfalls
Examine Redirections, Forms, and Site Search



Document Structure

Examination of the Code
Browser Compatability
Search Engine View - what the Search Engine Sees
Java/Flash/Flex/Plugins for any issues



Mapping out Keyword Strategy

Keyword Themes and Phrases
Supporting Phrases Implementation
Checking the on-page Content with Keywords
Landing Page Analysis



Search Engine Positioning

Examine Internal and External Links
Recommendation for Tracking System Implementation
Analysis of Index Saturation
Link Popularity Analysis
The cost for our Consultation Service depends upon the size of the website and the market you are in. A request for proposal will need to be submitted to give you an accurate quote. The cost ranges from $2600 up to $8000. Feel free to submit a request for proposal (it's free) and we will give you the exact price for an audit of your website.

Not looking for a full detailed report?
You're in luck. If you're looking for a quick analysis of your website or Search Marketing facets (be it PPC, SEO, Social Bookmarking, Link Building, etc.) Often times talking to an expert who lives in the Search Marketing trenches will give you the perspective you need.
We have two options: a 1 hour consultation or a 2 hour consultation. The fee is $400 per hour and we accept immediate payment via credit card or eCheck through PayPal. (note: you do not need a paypal account to make a payment through paypal).